#blog
2492 View(s)
Social Media Study 2018 – Foreign Destinations in the UK
5 November 2018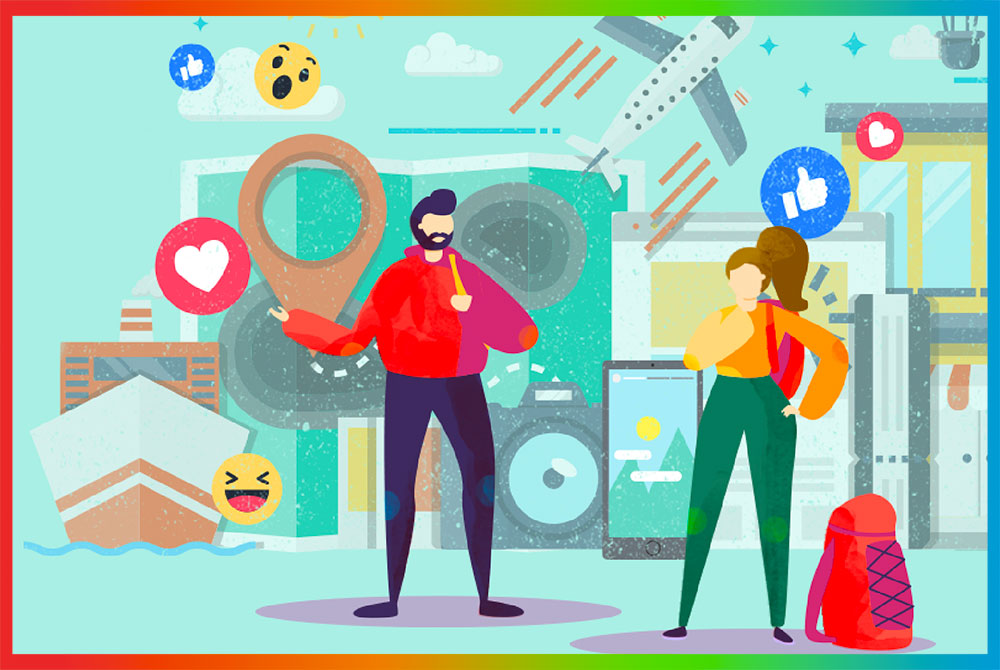 Like every year, We Like Travel conducted a social media study on foreign destinations in the UK. 78 destinations have been analysed from October 2017 to October 2018. 
Every month, you can also find on our website, the monthly ranking in the We Like Travel Barometers : bit.ly/barometer-uk
The following are a few points to keep in mind.
Travel & Digital in the UK
72.8 million visits overseas by UK residents in 2017 (+3%)
78 foreign destinations analysed in this study
15 million of UK Facebook users are interested in Travel & Tourism
1/3 of Millennials say posting pictures on social media is as important as the holiday itself
2/3 of the UK use social media every day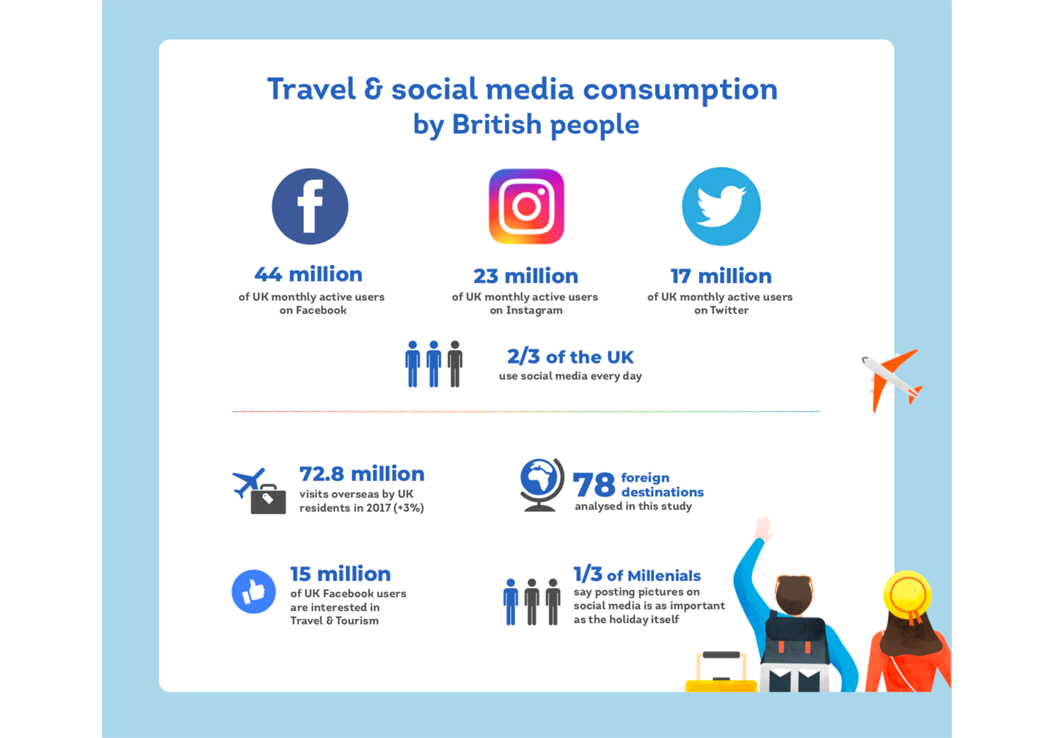 Who are the leaders?
The We Like Travel Score analyses the overall performance of destinations on Facebook, Instagram and Twitter during one year, from November 2017 to October 2018. 13 criterias and 30 levels of notation are used by our data analysts to figure out what DMOs perform best on the UK social media landscape.
Top 3 foreign destinations in the UK
South Australia, Japan and the Dordogne Valley are the most successful destinations in the UK, for their social media performances from October 2017 to October 2018 (Destinations with more than 10,000 fans and followers).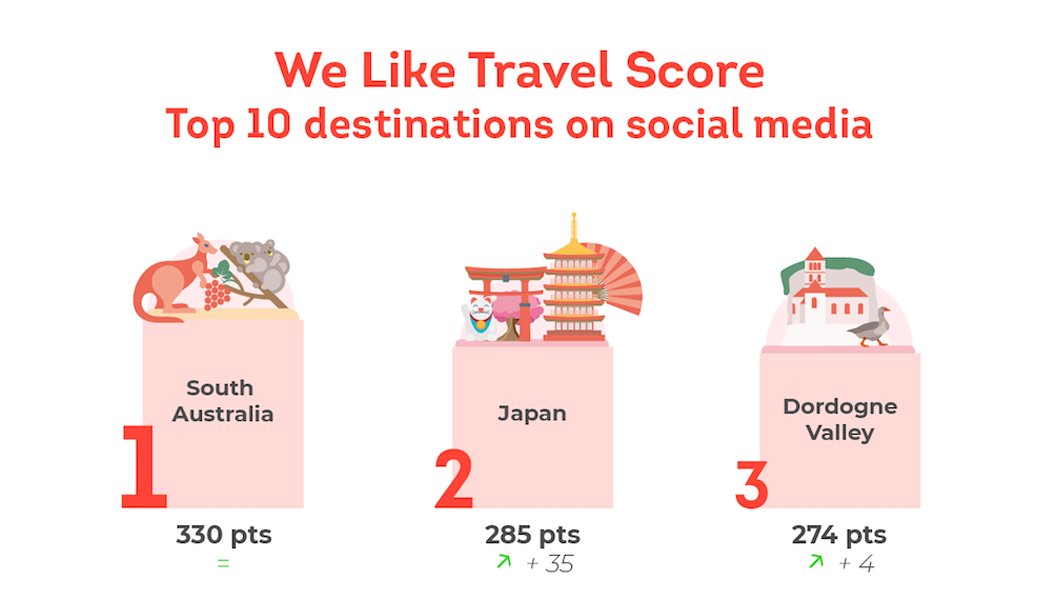 Find this ranking every month in the We Like Travel Barometers : bit.ly/barometer-uk
Facebook remains No1 Social Network
There are 44 million of UK monthly active users on Facebook.
Ireland, the USA and Dubai have the biggest DMO pages in the UK, with more than 200,000 fans.
In total, 9 destinations over 68 have more than 100,000 British fans. The average is 49,959 fans, and the median is 34 482 (50% of the destination have more fans, 50% have less).
The average engagement rate of the panel is a bit low: 0.80%. A good engagement rate is higher, around 1.5 or 2 percents. This is a major indicator in our study: engagement is the consequence of the reach, and a good reach is a vital purpose of a good Facebook strategy.
Instagram is booming worldwide, but very few destinations run a UK-only account
Instagram has more than 1B monthly active users in the world, and 23 million in the UK. Millenials are highly influenced by Instagram, 37% of them saying the Instagrammability of a destination is their first choice criteria.
There are tens of English speaking DMOs Instagram accounts, but only 16 destinations run a UK-only Instagram account. South Africa is the biggest of them, followed by Japan and Thailand. South Africa.
Engagement rate on Instagram is incredibly high at 7.8%, which is 10 times higher than Facebook engagement rate of foreign DMOs in the UK.
Worldwide, Tourism Australia has always been the master of Instagram with more than 3.2M followers on his account @australia.
Twitter is still an important player
There are 17 million of UK monthly active users on Twitter.
44 foreign destinations run a Twitter account in the UK. It is really more than Instagram (only 16 DMOs). Why? Because Twitter has a B2B utility and is very used by PR agents and DMO representatives.
These Twitter accounts have nearly 10K followers on average, which is pretty high compared to other markets.
Twitter is very useful to connect brands and communities, but also get in touch with influencers, deal with the e-reputation issues, and manage crisis.